Chanel No. 5  fragrances smell floral and bold. And they're not exactly unisex. But things are shaking up at the legacy fashion and beauty house in 2018. Chanel's perfumer Olivier Polge, who has been at the helm since 2015, just introduced three light, citrusy, and unexpected Eau de toilettes called Les Eaux de Chanel. Designed in a minimalist bottle inspired by a flask, with fresh notes more commonly found in Cologne, the three scents don't belong to any one gender.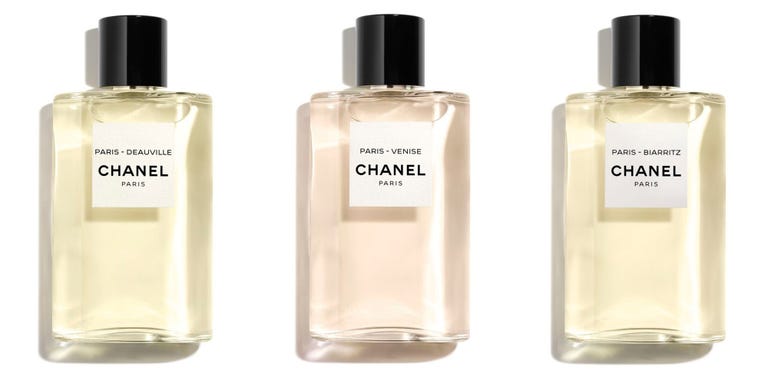 "This is a new sort of collection of perfumes, we call them Les Eaux because they're fresh, fluid, sparkling. My source of inspiration came from Eau de cologne, those combinations of fresh citrus oils," says Polge.
Each scent was inspired and named after a destination vitally important to Coco Chanel's life: Venice, Biarritz, and the beach town Deauville where she opened her very first boutique in 1913. "The three cities are really important in the history of Chanel. They became a part of our identity and source of inspiration," he says.
"Deauville is very close to Paris, it's not only a city near the city of Paris but it's in the middle of Normandy. And this is often a destination for weekends," he says. "I had in mind the scents of what could be a weekend in the countryside. This is why I envisioned a scent that aside from those sparkling oils of orange, it has a more aromatic, green aspect with basil, leaves of an orange tree, geranium, and a touch of jasmine."